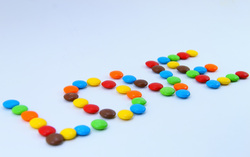 I want to eat M and M's now.

I'm anxious, wanting to push away something.

I step away from the cabinet knowing I'm not hungry, thinking I can eat later.

I lean my back against the counter, my arms crossed with an "I've got you" feel.

Dad is 87 and here for a visit.

He's having a sitting-in-the-chair nap on the back patio, towel draped across his legs on this cooler rainy day.

His loyal snuggly pup is curled on his lap in a tandem nap.

I love him and my heart is sad.

I see his hands, forearms, closed eyes, and white hair, his now soft, round belly and his long legs. All have worked hard to provide for our family, serve our country, love us all, be a kind man.

He's leaving. Not today. I don't know when. But he will leave. I'll miss him so much. Today I watch him nap and love him with all my heart and energy as I do.

Tears fall and they feel right and OK. I'm glad to know that he is here and that I'm caring for our connection the best I know how.

The sadness is subsiding and now I feel grateful for the love of this visit.

So much better than M and M's.