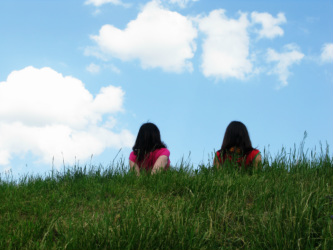 It's Saturday and date night.

One girl is feeling bad.

She did her makeup and put together her clothes with care but can't seem to feel good enough about herself. She's worried about her hair, how she looks and getting a little older, her outfit. She's seen other girls who seem to be having a great time and look like they have confidence and feel good about themselves. Why not her?

Does her husband think she looks sexy? He hasn't said so in a while. Will the people they are meeting with like the way she looks? Do they like what she has to say? Even when others say good things about her, she has a hard time trusting and taking them in.

Nothing seems to make her feel the way she wants to for long. Somehow this spirals down to her wondering about her very worth and she feels lonely.

Now she's afraid to even go out and the outfit she chose feels all wrong.

…

It's another Saturday and date night.

One girl is feeling good.

She did her makeup and put together her clothes with care. Even though she's getting a little older and meeting with people she's never met before she knows she's going to be fun. She's already decided that. In the mirror she admires her eyes, the curve of her waist, the way her top complements her figure and expresses her style.

She's marvels that she's learning to be her own admirer first. To thrill at the look IN her eyes in addition to their color and shape. That look that knows she's choosing to love herself and offer love to others instead of waiting for it to come to her. She's learned to cherish and send acceptance to her less favorite body parts. To celebrate that she is worth the effort of dressing in a way that pleases and feels good to her.

She's confident, knowing that even though she can't control what her husband thinks (even though sometimes she still wishes she could) or what others say either, she will see herself through whatever comes up with care and respect. She has her own back and is her own BFF. She has decided this is what matters most. She's learning to turn away from grasping out there for what others can't provide. She's discovered it lies within.

Tonight, she has chosen to love on herself. She feels fine in her skin and her inner feel good radiates around her like a sparkling accessory.

Same girl, different night, an inner world of difference.