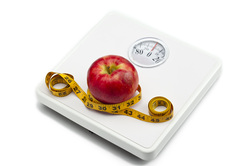 When you are setting a weight loss goal, the standard guideline is 1-2 pounds per week. If you choose to follow this approach, in theory, you gradually change your eating so that you don't experience severe calorie restriction followed by rebound eating and weight gain. It's not a bad approach, but it places the emphasis on something you can't control: how and when your body chooses to release weight. It's not always a linear process, and you end up locked in a battle with the scale that you can't win. Add to it that many people who get lean (lean = adding a little muscle which is more compact than body fat and shows up as lost inches or looser clothing) may not lose many pounds according to the scale, but have a different body appearance and size. Instead, consider setting your goals based on things you can control versus those you cannot.

What if you set a goal of learning to eat only when you are physically hungry and stopping when you are full? Brooke Castillo teaches this method in her book "If I'm So Smart Why Can't I Lose Weight?" I'm certified by Brooke as a weight coach, and we use "eating between the 2s on the Hunger Scale," as a way to get back in touch with your body's built-in mechanisms for regulating hunger. So What's a Hunger Scale?

It's a tool you can use to focus your mind on your body's experience of hunger and fullness. Using it with curiosity, compassion and practice, you can learn to identify you body's unique signals of hunger and fullness. When we have excess bodyweight we've been consistently overeating. "Eating between the 2s" is effective as it creates a decrease in total calories which leads to weight loss.

When you first begin to really pay attention and only eating when you have physical hunger (-1 to - 10 on the Hunger Scale) you may be surprised at how long it takes you to get hungry at first. Or you may find yourself disappointed the first time you stop eating when you just reach fullness (+2 on the Hunger Scale) and realize how little it takes to satiate your actual physical hunger. You may also notice that if you eat just for physical hunger, that you are full pretty quickly and then only stay satisfied for 2-3 hours before your body asks for food again. The good news is, with this approach you eat at that time, just what your body needs until it's lightly full (+2) again.

Over time, this approach results in sustainable weight loss and maintenance. It is a simple concept, and puts you in charge of your eating. At last, you're working WITH instead of AGAINST yourself by using awareness, compassion, curiosity and practice.