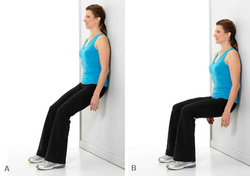 I've explained why using exercise with a primary goal of weight loss isn't such a great strategy. You can check that out in a complimentary guide I created for you: 5 Tips for a Radically Successful Weight Loss Experience. (There will be a link to it on this website coming soon.) Instead, I encourage you to help yourself to "Movement Treats."

So now, with exercising for weight loss off the table, get clear about Why you want to have stronger muscles, have more cardio endurance and be more flexible. Knowing Why you choose to improve can make the difference between making it happen consistently and having to dust your sneakers before each use.

We strengthen motivation just like we do muscles and improvements in running or sport. Try using your attention/awareness and compassion to "Buddy" yourself to workout as opposed to "Bullying" yourself there. Most people don't even realize they are giving themselves a hard time as they exercise (and often in all they do) in a way they would never do to a treasured friend, pet, or child. As you shift more into the Buddy approach, you enjoy your workouts more, your motivation gets stronger, it's easier to workout consistently and your energy rises.

To discover your own unique Why, write down your answers to these questions and keep them handy so you can interact with them over time.

1) Why am I doing my current exercise program?

2) Why is what I wrote in #1 important to me?

3) Do the reasons I'm doing this type and amount of exercise feel good to me?

4) If not, can I find reasons to do this that does?

5) Continue to read #1) on purpose and often, and add to it as you become aware of other reasons this is important to you. Check in and see if you like the reasons you are using for motivation. Do they support or criticize you? Do they inspire and encourage you, or shut you down?

6) Check each item on your list of why's to see if it feels good to you…motivating, inspiring, helpful, hopeful. Keep focusing on and add to the list all the reasons that have a good feel and that you believe.

Think about these examples to get you started on finding your own unique Why.

"I want to be able to do 30 mins 4 days a week on the treadmill." might motivate you purely from an accomplishment standpoint, or because you know it will relieve stress and help you be healthier. Pair this goal with something that inspires you and has intrinsic reward and see what happens. "I want to be able to climb the stairs on my trip to Europe without huffing and puffing so I'll enjoy my trip more." will have you fired up and getting it done.

"I just want to lift weights to fill up my schedule." said no one, ever. "I want to be stronger so I can lift my kids or grandkids," has you strength training with a smile on your face.