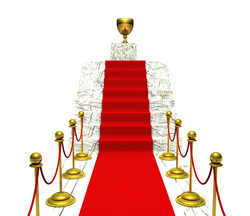 Successful people know that failure is just part of moving towards something you want. What if all the crazy diets that you've quit, the new smaller clothes you bought and can't fit into now, the exhausting and injury laden exercise programs you've tried were sign posts on the road to your weight loss success? What if they were pointing you to a better definition of weight loss success and a completely improved quality of weight loss journey?

"We need to accept that we won't always make the right decisions, that we'll screw up royally sometimes – understanding that failure is not the opposite of success, it's part of success." – Arianna Huffington (AOL/Editor In Chief of Huffington Post)

Arianna Huffington is recognized as one of the most influential women in the business world. She used to define her success using two markers: money and power. Similarly, most of us have used our weight on the scale and how we look as success indicators.

But when Ms. Huffington woke up on the floor of her home office bleeding from a fractured cheekbone, the result of a fall brought on by exhaustion and lack of sleep, she mined her set back to inform her next success. And although you may not have literally fallen, dieting and intense exercise and/or avoiding them, may have left you feeling broken and exhausted.

After her fall, Arianna Huffington wrote her book, Thrive, about redefining success to include wellbeing and having an ability to use our inner wisdom in the process. Have you ever looked back at a picture of yourself weighing less from a strictly diet and exercise approach and realized you were constantly worried about re-gaining and still not feeling great about your body or yourself? Weight coaching adds wellbeing and inner wisdom to your experience so that your weight loss experience enriches you and is sustainable. You live at your natural weight with confidence and inner strength that no diet can give you.

I help my clients to see it is completely possible and doable, to transform your weight loss failures and use them to start a new journey towards sane and lasting weight loss success. Are you ready for this change?