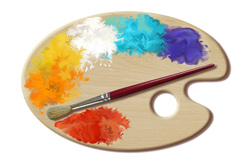 I'm a weight loss coach for smart women who overeat instead of feeling. I believe we all overeat on occasion even when maintaining our natural body weight. So I teach clients to consistently, not perfectly, experience emotion instead of overeating, which puts them in charge of their weight loss.

Learning to experience your emotion is like painting. There's no one right way to do it and it may look a bit different each time. Here's a recent canvas from my feeling gallery…

A few months ago, I chose to become a Mom.

Actually, I'm an "Aumma." Aunt turned Momma when faced with a situation I'd never wish for anyone involved. Enough said publicly for the privacy of all.

One of the most fascinating and challenging things about this new Aumma role is explaining the world as I understand it to my 11 year old Diece, (daughter niece).

Diece has spent 10 years in a very different life experience than mine so I'm also taking in what she's teaching me.

So I'm tucking Diece in for bed recently and she is acting cranky, graspy and snipey. In 5 months I've learned this usually means she is trying to push away an uncomfortable emotion and resisting it's flow. This is my clue to sit quietly with her giving a back rub and talking a little before hugs and lights out.

She is sad because she believes someone she loves is sad. I hear ya young One. I think this has been one of the hardest places for me to find myself. As a coach, what I've learned about feeling "painting" has made me less stressed and happier, more whole as a person, more open in connections with others and easier in my own skin.

Here are some hues from my palette:

1) Being sad is not bad. Life involves sadness. Sadness is normal and part of life just as much as happiness is. If we don't resist it, sadness can pass on through like a thunder storm.

2) Learning to see ourselves through sadness is an important skill that many of us were never taught. I'm still learning every day. Resisting it leads to internal discomfort and disconnection from ourselves and others. Stress, anxiety and pressure happen when we don't know how to allow emotion to flow.

3) Sometimes our sadness means we love. If we didn't love the other person, didn't care, we wouldn't be touched by their sadness.

4) I value being there for those I love when they are sad. I believe it is sacred and love to respond to sadness of another and offer comfort, encouragement, hope, or give kind space for it to just flow and be.

5) When you notice someone else's sadness, you can offer and offer and offer support. You cannot control whether or not they will choose to accept the gifts you bring. Ever tried to cheer someone up who was committed to their gloom? No fun for either of you.

6) I can't be sad enough to take away another person's sadness or struggle or pain. Nor can they do that for me. Even though you can't make your loved one happy, if you make time to connect, you are there for the one you love and this matters. It is enough.

As adults, I've learned we have the opportunity to accept responsibility for what we feel at any given moment. Because kids are still developing, their responsibility is proportional to their age of course. Diecy heard just enough of these ideas to make her eyes droop and close.

So as you learn to experience your emotions instead of eating to cover them up, keep in mind that "Life is Art, not a report card." Mike Hrostoski. Use a gentle and creative touch, not a measuring stick, as you experiment with your own feeling art.

I'd love to hear more about your feeling creations. Email me if you'd like to share or feel stuck in moving through your challenges with overeating, weight loss or emotion.