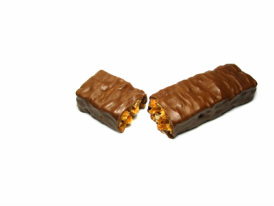 Once we learn to use Awareness to see what's going on as we eat, things get interesting. We are able to learn WHY we overeat Snickers or anything else.

Awareness first helps us to hear and clear our self-critical thinking. This alone provides immense relief and a richer quality of life AS we lose weight.

Once we choose consistently to stop criticizing (trust me as a former self-critic aficionado, it IS possible) and focus on curious and kind understanding of ourselves instead, we notice that whacked weight loss thinking creates whacked results like so many diets we've lost count, and the lose/gain/lose and feel crappy cycle. So let's take a closer look.

Whacked default thinking may sound like…"I'm bored. I want to eat those mini Snickers bars even though I'm not hungry and want to lose weight." I think Oprah came up with "mouth party" right?

When we use Awareness to create space to REALLY consider this from a conscious place, we can see how thinking this way doesn't serve us. When I have worked on this myself, I reinforce how unhelpful my whacked default thinking is by good-naturedly laughing at it. I imagine Snicker's bars telling me belly laugh jokes, or jumping up and offering to dance with me or go for a bike ride since they truly care about my health and well being. Ummm, no.

There are lots of ways to get from the "a ha" to a different way of thinking and new habits that bring us results we want. Once we are clear that our whacked thinking about boredom and those Snickers aren't the real solution, we can decide to accept the job of riding out the emotion of boredom and using our thoughts to create what we want more than boredom. Goodbye mouth party, hello endless possibilities.