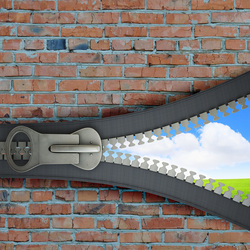 If you struggle with your weight and feel like you can't get your hunger and eating under control, you may ask yourself questions like, Why me? Why can't I eat like my boyfriend, husband, girl friend and not gain weight? I understand. It's frustrating.

Our brains are designed to ask questions. It's just how they are wired. This is good news if you harness your brain power in your favor. Learning to direct the questions you ask yourself about eating, weight loss, can help you move toward lasting satisfaction with food, and weight loss triumph.

Why me?

Why can't I eat like my boyfriend, husband or girl friend and not gain weight?

Why can't I get started or stick to exercising?

I know what to eat, why can't I do it?

These are what I call "Dead End Default" questions. Asking questions like these leads you face first into a brick wall, shutting you down and impeding your progress. They are the type of questions we unconsciously ask ourselves when we don't realize we have another option. You know they are the Dead End variety when the answers to them, which your brain will automatically generate or seek out, make you feel frustrated, discouraged, out of control or any painful emotion. And feeling uuugh for an emotional eater means eating to feel better, more pounds. Not so great for weight loss or maintenance. Instead, start to get a handle on your brain by trying this out.

Learn to ask what I call "Power Play" questions. These are questions that lead to answers that feel good or even playful and engage your power to move in the direction you want to go. They tap your creativity and lead to solutions you might not have even imagined were possible. Imagine if you could unzip the brick wall of your Dead End Default questions and step right through it! Some examples of these sound like:

How can I understand why I overeat?

How can I support myself in stopping?

How can I be kind to myself and still lose weight?

How can exercising be more interesting or fun?

Ready to try this out?

1) The first step is to notice what questions are routinely going through your head and write them down.

2) Answer your Default questions and notice how the answers make you feel.

3) Think about what you typically do or don't do when you feel that way. If your Default questions are leading to dead ends for your weight loss or maintenance, keep going.

4) Think of 1 or 2 new questions that inspire you to move in the direction you want to go.

5) Practice asking and answering those Power Play questions daily. Designing your day around the answers to questions that make you feel determined, committed, playful or powerful will have you creating lasting results you want.