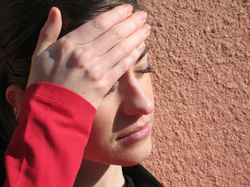 If you are trying to lose weight, or ever have and have given up, you may be feeling sad or frustrated.

First, I want to send you comfort and understanding, as I've been there too. And feeling sad and frustrated is no fun. Especially when it feels like we are stuck in it and have no choice, we're embarrassed or giving ourselves a hard time about feeling uuugh, or we're having a hard time figuring out how to do it differently.

Learning to feel instead of eat creates sane and lasting weight loss and is a process I teach my clients. They practice and tweak until they have their own custom way of doing what works for them.

When you notice you are sad or frustrated (or have any uncomfortable, stressful, painful emotion) these emotions may feel unchangeable because we've been thinking thoughts that cause them for a long time. We've been unconsciously practicing this thought/feeling pattern and we're good at it. And for most of us who use food to feel better emotionally, this leads to overeating and extra weight on top of feeling uncomfortable, stressful or painful emotion. Sigh.

Understanding the idea that we can notice our thought/feeling patterns is where we start. Then learning to choose your thought/feeling patterns allows you to take your power back and create the results you want. So even though it feels like sadness, frustration, (or any uncomfortable, stressful, painful emotion) is unchangeable that's not true. You get to decide.

If you feel like throwing things at me now, I get it. I was really annoyed when my coaches told me that what I was feeling was optional WHEN I WAS FEELING it. Honestly, it pissed me off. Now I love those coaches and the freedom they helped me find, but it took time and willingness.

So be clear, deciding to accept the responsibility and freedom to change your thought/feeling patterns isn't usually an immediate process, so in the meantime, I want you to be kind to yourself. (even if you run away from understanding yourself, or you overeat to distract yourself, or you over-work or over Netflix/TV, or over shop….etc.) Listening to your mind's critic just blocks you from understanding why you overeat in the first place, which will keep you from getting the sane and lasting weight loss you deserve.