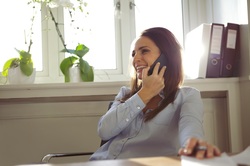 Our minds are like a computer's operating system for our being and life.

Far more complex and amazing than the latest smart phone or laptop.

And like all tech, they are vulnerable to errors from inevitably faulty thought software.

Installed by innately flawed (and usually well intended) parent, teacher, cultural, peer programmers.

Our minds efficiently run our default thought software as they are designed to do.

To keep our minds operating well...creating desirable output...a life we want and that delights us, we can do regular system maintenance using our pre-installed Awareness.

Awareness, the part of us that illuminates our power via choice, can do a thought scan that allows us to understand the default programs our minds are running.

Taking time to defrag our scattered thoughts allows us to remove inefficiencies that result from not paying attention.

We can download and update our thinking programs to maintain function and keep evolving and growing.

We operate more calmly even with the threat of malware facing us when we clear time to back-up our mind system. We do this by creating space to store positive thoughts cultivated by choice that we want to have available for our use.

You know it's hard to operate these days if your tech is always on the fritz. Same is true for your thoughts.

I'm taking time to upgrade my mind tech today, join me?