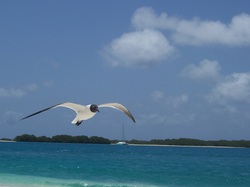 I love a lot of musical styles…including pop music. These musical snapshots of cultural trends start off energizing, and then make me slightly nauseous after I've heard them too many times. Still I enjoy the beats that make my hips move, sense of fun and ignore the many many lyrics that offend my sensibilities. I've listened to pop music since I was a tween so I've got a few decades of sweet sappy love songs, catchy dance tunes, some crossover rock, a dash of alternative and reggae too rolling around in my brain cells.
So I was really excited to put this part of my brain to use when I learned I have a song angel. Martha Beck taught me to notice this phenomenon where out of the blue, a song will tickle the edge of my brain. If I pay attention and look up the song's lyrics, there's always some reflection of my heart's musings, something that makes me laugh or release some good tears, even an insight I hadn't gotten before. When I have the experience, I get a sense that I'm not alone because somebody else has been through something similar and maybe my song angel is part of what connects me to something larger than myself.
This morning, I was having a personal partay in my head. A celebration of my profound deep gratitude to be out of prison. Mind prison that is.
The shackles of have to, helplessness, embarrassment, separation were heavy and confining.
Learning to work with and manage my mind with coaching has freed me to soar to lofty peaks. What does this have to do with eating? Stay with me here.
Of course it's not all soaring. Even loft-prone birds land, preen the young ones, and tend the nest since it doesn't vacuum itself. My point is, I can mind-soar even as I do the mundane. Because now I know that even though my mind wants to play the "have to" refrain, if I manage it and listen for my truth, I don't "HAVE to clean my home." I'm choosing to clean it because I want to live in beauty more than I want to not. "I can't eat when I'm not hungry," soars to "I choose to live in complete food freedom and I feel my best (emotionally and physically) when I eat mostly for physical hunger." I love seeing my clients fly free as they get this too.
[Brain tickle…]
"For I must be traveling on now there's so many places I've got to see….won't you fly high free bird."
http://youtu.be/dDd3KKQV8RA