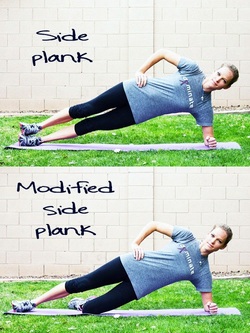 In my free ebook, 5 Tips for a Radically Different Weight Loss Experience, I encourage people who don't exercise and even those who over-exercise, to GIVE themselves Movement Treats. A way of moving that just feels good and delights them.

In addition, many people want to exercise to achieve a health or fitness goal or look a certain way but are blocked from taking this step by flawed thinking. I've been a personal trainer for years. I've heard SO many reasons for not moving or exercising. "I don't have time. It's too much work to change my habits and my sofa is so soft. Exercise hurts…it's hard to breathe, I get sore, lifting weights makes my muscles burn. I feel awkward in classes. I don't like to sweat." I help clients break each of these excuses down and we come up with strategies to overcome them. There are many work-arounds to eliminate and or reduce exercise challenges.

For now, I want to focus on realizing that even if all of the discomfort associated with exercise can't be eliminated, it's still the best pain you can choose. Exercising leads to feelings of accomplishment, resilience, strength, physical function and decreased risk of a host of aging diseases. Any unavoidable discomfort is offset by endorphins and living life in motion. Ahhh.

If you choose not to move or exercise, you're signing on for an increased probability of disuse pain: reduced physical function, a higher risk of medical appointment, medical procedures, medication side effects, depression, stress, forced dietary restrictions. No avoidance of pain and little potential upside. Uugh.

So even if you still think moving or exercising is a pain, which pain do you want to choose?