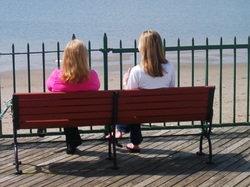 Our culture, media messages, your mother or other family members, and even strangers at the grocery store can be really unkind about weight and body size. Just moving around in public spaces can feel uncomfortable as we imagine others judging us or encounter unwanted comments. Thank goodness for the privacy of our own space where we can close the door, relax…and sit down with a Bully? What??? When we tune into our internal weight loss conversation, we are often shocked to find that we're on the Bully bandwagon too. For many of us, that internal Bully berates how we look, how our clothes fit, what we eat, how much we eat and how often, how we parent, how much we exercise…and on and on and on. No wonder we're feeling exhausted, discouraged and often hopeless. And if we believe that food provides relief and comfort…HELLO… cookies, pizza, beer, chips, even overeating healthy foods, and more weight.

The good news is, we can stop the internal bullying! To get started, it helps to understand a little about how we are wired. Dr. Russ Harris, physician and psychotherapist specializing in stress management, describes two parts of ourselves, the "thinking self" and the "observing self." "The thinking self [also known as the mind] is the part of you that thinks, plans, judges, compares, creates, imagines, visualizes, analyzes, remembers, daydreams and fantasizes." The Bully comes from your this part of your mind's activity running on default social, culture, family and self programming through the years.

He contrasts that with the Observing self which is "a viewpoint from which you can observe thoughts and feelings. …You can think of it as part of you that truly 'sees the big picture,' everything you ever see, hear, touch, taste, smell, think, feel or do. The observing self sees things as they are, without judging or criticizing [and] therefore gives acceptance in its truest, purest form." Who couldn't use a Buddy like that?

Learning to switch to your Observing self or Awareness creates space from your mind Bully's criticism of your eating, body, weight, etc. Anytime you notice the conversation, just bring awareness to it. You aren't trying to change anything, you're just learning to consciously notice what's on your mind. I recommend that you write down your thoughts. Writing them creates even more distance between you and the automatic programming that is running in your mind. Our thoughts usually get cluttered and messy (like our homes without some attention) when we let them run on default without taking a reflective look at them.

Try this: Set a timer on your phone for 1 to 5 minutes. Write down every thought you hear yourself thinking. You can use pen and paper or phone or computer, whatever is handy and that you prefer. When the time is up, take a look at what's there with curiosity, kindness and humor if it's available. Take a look like you would for someone you wanted to understand and support.

From this space, you get to choose if you want to continue believing the internal Bully chatter, or learn to consciously choose speaking to yourself with respect and compassion. You may not have even realized you had a choice.