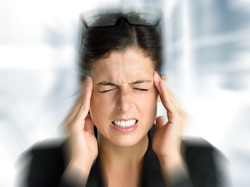 As you practice tuning into your body to get in touch with your hunger signals and stop overeating you may begin to notice your feelings more clearly: frustration, stress, anger, sadness, blah or uuugh. Or maybe you just sensed something was there, or felt uncomfortable pressure like you were pushing these feelings away. Maybe you defaulted to eating more to cover up the discomfort or were surprised to find yourself snapping with irritation at someone.

Many of us have default negative thoughts about our emotional life that make it initially challenging to work with our feelings. Not surprising. Feeling has been demonized in our culture. You've likely heard or maybe said to yourself, "Big girls don't cry, Boys and men definitely shouldn't show emotion, There's nothing to be afraid of, If you don't stop crying, I'll give you something to cry about, You should be ashamed of yourself." Karla McLaren, author of The Language of Emotions explains, ""We ingest a huge number of messages about the inherent wrongness of emotions, which is one of the major reasons we grow up and learn about everything but emotions." No wonder that many of our families didn't have a way of working with emotion that is positive. And it's easy to see that if you have uncomfortable emotion you could think there is something wrong with you or your experience. She goes on to say, "emotional skills are absolutely necessary for our thinking processes, for learning, for attaching value to data, for our decision-making, for our communication and relationships, and for our capacity to survive and thrive in the social world." It's never too late to develop emotional skill and strength. This will give you more options when you want to stop overeating too. Try out these approaches to see what works for you.

Watch your Feeling

You know you're not hungry but you find yourself standing in front of the fridge or snack cabinet with the doors open. Or you've started eating after a long day at work or in the middle of a stressful day with the family or kids. Your body sensations tell you you're full (you're clearly at a +2) but you want to keep eating. Use this anytime you are about to overeat. There is no right or wrong way to do this and each time you do it will likely be different. The idea is to experience feeling with curiosity and openness.

1) Pause for 1 full minute and notice your breathing. Is it fast or slow? Shallow or deep? Tight or loose? Or something else completely?

2) Imagine you've got a few minutes to tell someone who really wants to hear, what is going on for you right now. Find a few sentences that describe the situation and what you're thinking about it.

3) Now do your best to give some sort of name to the feeling you are having. Is it more mad, glad, sad, fearful? Any word is fine: ugh, blah.

4) Try thinking of this feeling as a vibration in your body. Close your eyes if possible and you want to, and direct your attention to your feet, up your legs, through your torso, into your hands and up to your head. See if you can find where this feeling vibration is most located. If this vibration had a color, what would it be? What texture? What sound would it make? You might discover that the feeling shifts and then dissipates and at some point there's nothing left to describe. You've experienced the feeling.

Many times you'll gain valuable insights from doing this and often this process allows the uncomfortable feeling to pass on through in a brief time. Other times you may not be able to focus. You may hear critical thoughts about the worth of doing this and feel impatience with taking time to see what's happening. Keep in mind there is no right or wrong way to do this. Just notice and write them down if you are inclined. It may take more practice or another approach for you. I think of working with emotions like painting. There's an art to it and even though we are all using canvas, paint and brushes, we're all going to do it differently. Let curiosity and compassion guide you and you'll reap infinite rewards. I can tell you, the relief and satisfaction of these are tastier than any edible treat.