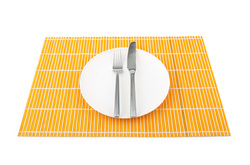 In Weight Coaching I teach clients to practice noticing their body's hunger sensations using tools to help distinguish them from emotions/feelings. Two of the payoffs in trying out this approach are that it connects you more clearly to your own experience and gives you control.
Some people find this is enough for them to stop overeating and that they are losing weight. As your weight changes, your hunger and fullness sensations will automatically adjust and continue to support you if you stay in touch with them. If this is working for you, you'll just continue until you reach your natural body weight.
If you find that you are having challenges in getting in touch with or eating according to your body's hunger signals, understand that like learning any new skill, it takes experimenting to find what works for you and practice to get better at it. You can keep exploring and building a new relationship with your body, yourself and food by noticing 4 ways of eating: Fuel, Joy, Fog and Storm.
1) Fuel Eating
Fuel Eating is food we consciously choose because it makes us energetic and helps our body function well. To reach and maintain our natural weight with ease, identify your fuel foods and aim to eat them according to your body's hunger signals for 90% of the time.
Use these questions to get clear about what your fuel food is:
Do you gain, lose, or maintain weight when you eat it regularly?
Is it easy to stop eating at 2? (Or does it trigger compulsion before, during, or after eating?)
Is it healthy by your standards? (And does it also taste good to you?)
Does it satiate you for long enough? (At least two hours when you eat until you are lightly full)
Does it give you energy? (Not make you lethargic)
2) Fog Eating
This is eating when you aren't paying attention. It may start with eating quickly. Your body may be tense or you may be breathing shallowly. You may realize that when you eat while in front of the computer or watching TV, you look up from your food and are surprised that it's all gone. You may not even remember eating it all. This is fog eating. Because there is so little payoff in fog eating, getting clear about how much you are eating this way and decreasing or eliminating it offers insight and progress in losing weight.
Brooke Castillo, author of If I'm So Smart, Why Can't I Lose Weight explains "Fog eating is not enjoyable because you hardly realize you are doing it...It's a big bummer because you don't need it for fuel and you aren't really enjoying it…Compare fog eating to pouring juice into a glass. You aren't paying attention so it just flows out of the glass, onto the table, onto the floor, and you just keep pouring." When we fog out and put food into our bodies that they don't need for fuel, the overflow pours onto our bodies in the form of excess weight.
It's important to understand that the first step is always to notice and become aware of what you are doing. Even noticing you are fog eating halfway through or after is fine. If seeing it clearly allows you to shift what you do in a way you want, great. Other times the first step is just noticing without changing anything you do. Noticing with compassion, allows you to see clearly and understand what you are doing and why you are doing it.
3) Joy Eating
This is consciously choosing to eat something you truly love to eat and actually tasting it. It's food that just tastes good in your mouth. Doritos, chocolate chip cookies, cake, these are foods designed for pleasure, not to nourish your body. The main focus with Joy Eating is that you focus on each bite, savor and enjoy each one. Most people are able to lose weight and maintain their ideal weight having a small Joy treat a day or about 10% of the time.
If you find it really challenging to shift to eating a small amount of Joy food, and you are struggling with your weight, I invite you to explore your food joy to life joy ratio. It's likely off. If you find that over 50 percent of your joy comes from food, it makes sense that it'll be difficult to change your eating. The good news is, you can decide to learn to increase your non-food joy. It's a process that is so worth the effort and starts with recognizing if you're out of balance here. Once they've shifted their food joy to life joy balance, many people find they are fully satisfied with a serving or few bites of a treasured treat, when it is anticipated and thoroughly savored.
4) Storm Eating
Anytime you eat and feel like you can't stop is Storm eating. It can happen when we get too hungry or have deprived ourselves a lot. Storm Eating can also occur during times of intense stress, sadness, or any strong emotion, even positive emotion and is usually done alone. Many people are embarrassed or feel regretful after they Storm Eat. The important thing to remember in a Storm Eat is that just like a weather storm, it always ends. Also, remember that any judgment you have is just a distraction from what is really going on for you. Again, with kindness, this is an opportunity to learn what is going on for you and new ways to support yourself.
Using these can help you understand your eating experiences and guide what you eat. If you try this out and want to share your experience, you can email me
mgw@melissagwirt.com
. I love hearing what's working and any challenges or questions you have.