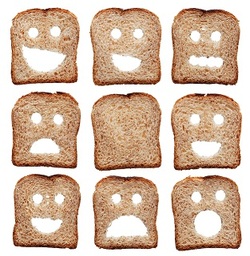 With the sheer volume of information we are inundated with daily and our personal history of dieting and exercise, it's easy to develop some fuzzy thinking around weight loss. Check out this quiz and then see the Weight Coaching Smart Strategies outlined in the answers below to jumpstart your weight loss efforts.

1) According to the media: commercials, advertising, and many diets, the most important part of weight loss is:

a) the dieting and losing phase

b) the maintenance phase

2) Your weight is determined by:

a) 30% diet, 70% exercise

b) 50% diet, 50% exercise

c) 80% diet, 20% exercise

3) What part of eating causes people to be overweight?

a) their protein vs carb vs fat ratios are out of balance

b) they are overeating: eating when not hungry, eating past full

c) they are following the wrong diet

d) other: __________________________________

ANSWERS and WEIGHT COACHING SMART STRATEGIES

1 (a) Most diet programs last only 8-12 weeks and the emphasis on this phase can help you get going on your weight loss journey. But, if you don't want to repeatedly cycle through losing, re-gaining and losing, the after-diet maintenance phase lasts for years. Once the excitement and recognition wears off from the dieting and losing, you need solutions that will stick with you and help you through the years.

WEIGHT COACHING SMART STRATEGY: If you are tired of losing and gaining, focus on making maintainable changes that will last over time.

2) (c) What you weigh is determined 80 -90% from your diet and 10-20% from exercise

Reality weight loss TV shows work temporarily because people are exercising 4-7 or more hours a day and on a highly restrictive diet. And 50% of clients re-gain the weight they lose on the show.

WEIGHT COACHING SMART STRATEGY: To get sustainable weight loss results, give 80% of your efforts to understanding your eating with curiosity and compassion. Start to notice when you are Bullying yourself around food and your body and learn to Buddy yourself through. Weight coaching offers tools to help you with this approach.

3) (b)

WEIGHT COACHING SMART STRATEGY: Overeating is taking in more calories than your body burns for fuel. Weight coaching gives us the opportunity to learn why we overeat and what to do instead. This subtle but powerful shift can end the gaining and losing cycle and stop your struggle with food for good!